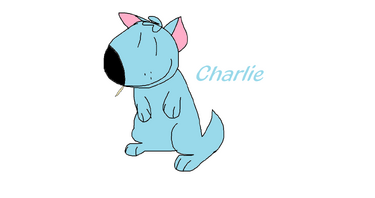 Charlie
is a character on the Kids Channell! show,
The Westies
. He is the protagonist of the show. Out of the whole family, he is the only boy. Charlie is most notable for the toothpick he has sticking out of his mouth at all times. He is a blue West Highland White Terrier (or Westie for short)
Charlie's toothpick is actually a replacement for a cigarette, the thing that he was always supposed to have in his mouth before, but it was deemed inappropriate for children to have a cigarette in a children's cartoon, so it was changed to a toothpick. However, at times, he'll hold the toothpick outside of his mouth like a person would with a cigarette, meaning the whole idea wasn't totally forgotten.
His collar has a blue heart on it, as opposed Celine and Caprice's having a purple and pink bone, respectively.